24 Best Free Fonts from 2014 Archive
We have compile a list of Free Downloadable various type Fonts for personal & commercial use for Web Designers and Logo Artists by which you can save your money as well as time and focus on making great implementation and applications of these typeface designs.
---
01. Public Enemy Font Download
This is a simple font, created my me, inspired by others true-type fonts.
Designed by : Tomas Velez
---
02. Hanoi Typeface Font Download
A font I designed which I would describe as Sleek, sharp & bold. Free to download.
Designed by : Alex Dale
---
03. Nechao Sharp Font Download
Nechao Sharp is a post modern / square font style and it was made from my own logo or avatar since February this year.
Designed by : Jayvee D. Enaguas (Grand Chaos)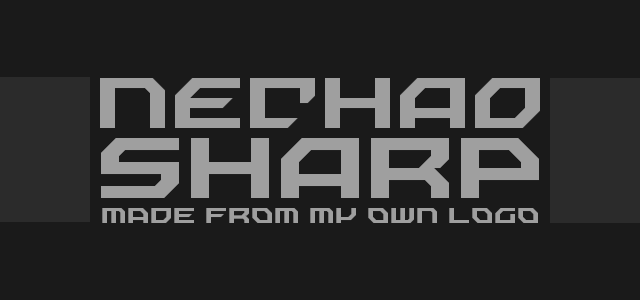 ---
04. Nero Font Download
Designed by : eriC alvareZ
---
05. Volution Font Download
New FREE typeface that you must love!
Designed by : Dennis Piké
---
06. Punctuation Font Download
At start, Punctuation is a typography produced as part of pictogram's set for the Chinese Zodiac. It is based on punctuation, which makes her beautiful typography.
Designed by : Albin Loyal
---
07. Marske Font Download
Marske is a free stencil display font which can support Russian, Ukrainian and Belarusian Cyrillic Designed by Kash Singh & Sergiy Tkachenko
---
08. Fins Font Download
Fins is a simple sans serif typeface designed for a Typography class.
Designed by : Jake Kho
---
09. Bom Retiro Font Download
This font was designed as part of an Academic Project which involved the rebranding of Wine brand Ramos Pinto. The font was designed specifically for the project to better suit the needs and goals for our rebrand.
Designed by : Pedro Canário
---
10. Attractor Font Download
Designed by : ericjordan.com
---
11. Kel Font Download
Projeto de fonte simples, san serif e free. Baixem a vontade! :).
Designed by : Keine Martins
---
12. Belepotan Font Download
Belepotan is free typeface based on handdrawn brush. Normal and italic are available.
Designed by : Arwan Sutanto
---
13. Guriga Font Download
This display typeface is free for both personal and commercial use. Great for posters, logos and many kind of headlines. Available in OpenType/TrueType format.
Designed by : Zoltán Zeman
---
14. Ragnier Font Download
Ragnier modular free typeface. My first type.
Designed by : Tornike Topchishvili
---
15. Monitorica Font Download
If "Back to the Future Part II" heroes in 1989 would need a new poster for to travel to 2015, sure they woul need a futuristic font and should use ours. It's good not only for Theatrical release posters. The best part is one does not needs a DeLorean time machine to give a different spin to a sheet of paper. Because "Roads? Where we're going, we don't need roads."
Designed by : Sergiy Tkachenko
---
16. LOOQUE Font Download
LOOQUE is a free decorative typeface based on linear patterns with circular and angular edges.
Designed by : MASTERFULMD
---
17. Madariaga Font Download
Madariaga was born as a student project at "Tipografía 2" in Longinotti's cathedra, in Universidad de Buenos Aires in 2004.
Designed by : Krill studio
---
18. Brela Font Download
Brela is a serif typeface of Humanistic style designed exclusively for editorial design. Thanks to the generous height of X, it accomplishes great legibility at small sizes. At bigger sizes its rational features stand out, making this typeface perfect for headlines.
Designed by : Makarska Estudio
---
19. PORT118 Font Download
PORT118 is a 100% free uppercase typeface inspired by port cities and the typography on ships that pass by their shores and lay in the docks. A strong, clear typeface that fits their character.
Designed by : Thomas Breure
---
20. Axel Font Download
Axel is an All Caps free font. It can be well used in posters, heading, titles, etc. The idea was to create sharp and sliced edges. This font is free for personal and commercial usage. This is the first font I've ever designed so please let me know your views in the comments section.
Designed by : Fusionplate – Design Mag
---
21. Meticulous Ariel Font Download
Meticulous Ariel is a new typeface that inspired by the world of fashion. Meticulous Ariel Typeface should be in use by the most popular fashion magazines and super luxury brands. Beside the typeface I designed a few typographic posters to demonstrate the type uses.
Designed by : Zaher Almajed
---
22. Silent Lips Font Download
An experimental typeface imagined through a lot of different experiences.
Designed by : Vincent Labonne
---
23. Idolatra Font Download
Idolatra is a free font inspired in tiki style.
Designed by : Felipe Moreno
---
24. Neosteel Font Download
Designed by : Sam
---
Please Note: All visual content above is copyright to its respectful owner. FontBlog does not claim credit nor responsibility for any images/videos featured on this site.