We have compile a list of Free Downloadable various type Fonts for personal & commercial use for Web Designers and Logo Artists by which you can save your money as well as time and focus on making great implementation and applications of these typeface designs.
---
01. Hallo Sans Font Download
A personal project. Designed by : Fredrik Staurland
---
02. Bebas Neue Font Download
Bebas Neue is a sans serif font family based on the original Bebas Neue free font by Ryoichi Tsunekawa. It has grown in popularity and become something like the "Helvetica of the free fonts".
Now the family has four new members – Thin, Light, Book, and Regular – added by Fontfabric Type Foundry.
---
03. Kloe Sans Font Download
Elegant & legible, 317 Glyphs, 12 styles.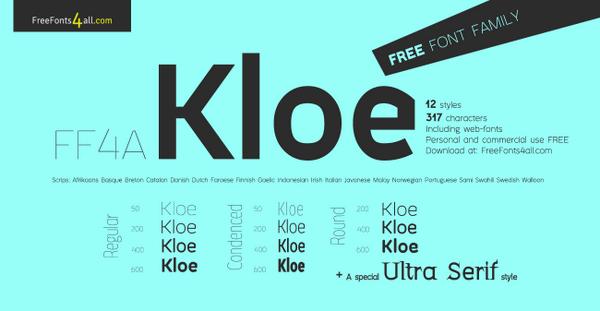 ---
04. Octopus Free Font Download
a free font make your design significantly better so it will communicate better with the user, this process need a good typeface.
---
05. Rodus Font Download
---
06. Aileron Font Download
UltraLight, Thin, Light, Regular, SemiBold, Bold, Heavy, Black, & Italic
---
07. Eunomia Font Download
---
08. Route 159 Font Download
---
09. Ferrum Font Download
---
10. Glober Font Download
The Glober font family includes 18 weights – nine uprights with nine italics. It is characterized by excellent legibility in both – web & print design areas, well-finished geometric designs, optimized kerning, excellent web-font performance and legibility etc.
Inspired by the classic grotesque typefaces – Glober has his own unique style in expressed perfect softened geometric forms.
---
11. Poetsen One Font Download
---
12. Canaro Font Download
Conceived as an exploration of geometrical type designs of the early twentieth century, Canaro was — in its first design stages — heavily rooted in that time period. During its development and the effort to give it a modern appearance, it turned into a contemporary font with a strong historical background, defined by legibility and functionality. In addition, the lack of spurs provide a unique but unobtrusive character and support the contemporary impression. Typographic features like alternative glyphs, ligatures, oldstyle numbers, arrows, fractions and other special characters, round up the family. Canaro is available in nine weights plus matching italics. Ranging from sharp and elegant thin cuts to sporty and athletic heavy weights.
DOWNLOAD (download light & italic)
---
13. Sant Joan Despí Font Download
Free Opentype font for Mac and Pc
---
14. Nivo Font Download
Nivo is a little free time project done for fun. It is completely free for both personal and commercial use . Designed by Nuno Leal.
---
15. Jauría Font Download
Jauría is a text font family, composed by three weights: regular, italic and bold; having as a constant: sharp angles, cuts, fractures and deformations which are associated with its morphology and the motivations that made it grow. All of this things conceived without affecting its legibility and functionality in small sizes.
---
16. Asgalt Free Font Download
This is the third font I've created, you can use it for personal and commercial works. I hope you'll enjoy it.
---
Please Note: All visual content above is copyright to its respectful owner. FontBlog does not claim credit nor responsibility for any images/videos featured on this site.