We have compile a list of Free Downloadable various type Fonts for personal & commercial use for Web Designers and Logo Artists by which you can save your money as well as time and focus on making great implementation and applications of these typeface designs.
---
01. Coves Font Download
A new FREE typeface called Coves, inspired by my place of study, Falmouth. Hope you enjoy it! Took ages ahah! 😀 Personal use only with free version, affordable commercial licences available through me at jackharvatt@gmail.com
Cheers!
Designed by : Jack Harvatt
---
02. Exodus Font Download
Exodus is a display serif typeface with luxurious lines and a smorgasbord of unique alternative characters. Exodus was designed to create stellar unique character sets for logos and headings while giving full control to the designer.
Designed by : Andrew Herndon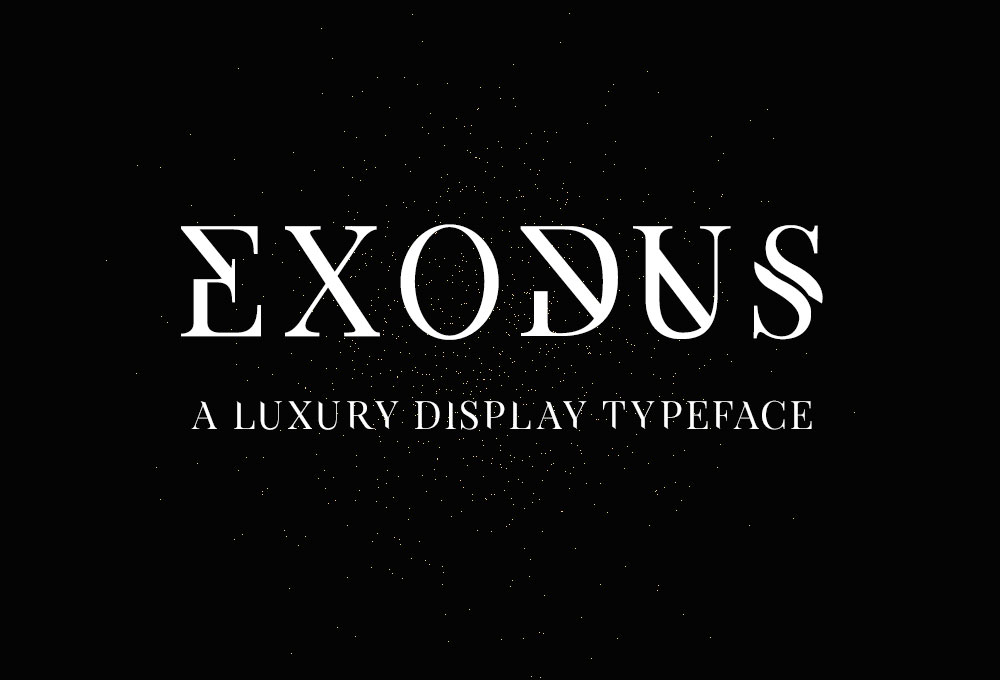 ---
03. Duwhoers Brush Font Download
Duwhoers is Modern Brush Font with Vintage Handmade feel. you can Download for FREE (Personal / Commercial use) this font is free for Personal and Commercial use. but any donation are very appreciated.
Designed by : Agga Swist'blnk
---
04. Audrey Font Download
Audrey is a new, FREE and elegant typeface by Cristina Pagnotta. Three weights: regular, medium, bold. Two variations: regular and oblique. Hope you enjoy it! For any info please contact me at: info@cristinapagnotta.it
Designed by : Cristina Pagnotta
---
05. Playlist Font Download
Playlist is a perfectly imperfect handdrawn font with dry brush styles. Playlist font contains 3 styles: Script, Caps, and Ornament, which you can combine to create a beautiful designs. Playlist Free Font can be used in any purposes; personal and commercial. It is suitable for wedding invitation, greeting card, illustration, quotes, poster, t-shirt design, etc.
Designed by : Artimasa Studio
---
06. ELIXIA Font Download
ELIXIA™ is a slightly condensed typeface inspired by the hexagonal grid system. It has a strong vertical emphasis, with a solid, geometric feel. Its clean ruler-straight lines, restrained forms, unique shape and proportions give the face a dynamic, industrial futuristic aura, yet, in a complete paradox in itself, also lends an archaic and mystical feel — a quirky mix of medieval and modern. It is a single-weight typeface with a total of 200 characters /glyphs that includes: Uppercase, Lowercase, Numerals, Extended Characters, Accents and Stylistic Alternates. ELIXIA™ is most suitable as a decorative display font.
Designed by : Kimmy Lee
---
07. FESTER Font Download
FESTER is an uppercase, semi-condensed, sans-serif typeface. Its gentle, clean appearance makes it a suitable typeface for headlines, posters, titles and captions. It consists of 256 character glyphs & over 3302 kerning pairs.
Designed by : Nawras Moneer
---
08. Antre Font Download
Antre is contemporary rhytmic script for expressive layouts to be used in posters, magazines or wherever needs expressive headers.
Designed by : taner ardali
---
09. Pacha Font Download
Pacha is a display typeface with a rustic and ethnic design, inspired in the ancient cultures of Latin America. Pacha is unicase, and was designed with proportions based on a square. Such feature allows that all letterforms can be used in the same line of text, as a solid block. Its attributes intend to be used in editorial, branding and poster design. Pacha offers a full set of ligatures, ornaments, patterns, arrows and frames that permits a versatile usage for different projects. You can enjoy and play with this charismatic font, and all of its gadgets for free!
Designed by : sumotype foundry
---
10. Sango VHS typeface Font Download
Sango is a modern anti-italic VHS typeface with two weights Sango Regular and Sango Static. Viewer discretion is advised.
Designed by : Andrew Herndon
---
11. Plum Font Download
A simple, playful free font. Commercial license available via Behance message.
Designed by : Amy Cox
---
12. Luna Font Download
This quirky handwritten font is totally free for personal and commercial use. Thanks for checking it out! Enjoy!
Designed by : Amanda Leeson
---
13. HoneyLlama Font Download
This quirky handwritten font is totally free for personal and commercial use. Thanks for checking it out! Enjoy!
Designed by : Camilla Bertoni
---
14. One Day Font Download
24 hours spent for this project, simple, geometric, & modern design mixed in to give you this font,
Designed by : Nawras Moneer
---
15. Eutopia Font Download
I was inspired by the letters of the mythical "Ideales" tobacco package, and from other 1920s geometric models. Eutopia has been born with the aim to be useful for the current graphic communications.
Designed by : Víctor Navarro Barba
---
Please Note: All visual content above is copyright to its respectful owner. FontBlog does not claim credit nor responsibility for any images/videos featured on this site.