We have compile a list of Free Downloadable various type Fonts for personal & commercial use for Web Designers and Logo Artists by which you can save your money as well as time and focus on making great implementation and applications of these typeface designs.
---
01. Nautilus Pompilius Font Download
This font have regular font style.
---
02. Arciform Font Download
This font have regular font style.
---
03. Ansley Display Font Download
Ansley Display is a past and modern retro inspired display font I made when I couldn't find many free retro typefaces. Free for commercial and personal use. Please appreciate and donate if you can.
Designed by : Kady Jesko
---
04. Relancer Font Download
I created this font based off a sample I saw on a website that uploads picture of old images out of copyright. I instantly fell in love and wanted a font exactly like the one I saw there, and I couldn't find it. So I made it myself. This is an uppercase only display font, there are no symbols or additional glyphs. Enjoy it!
Designed by : Ryan Molag
---
05. Measure Font Download
Measure is the free font with narrowed proportions. It can be used for infographics, posters and text compositions. Measure font has 531 glyphs, covering more than 40 languages, as well as ligatures, stylistic alternates, and small caps, all of them accessible through OpenType features.
Designed by : Sergey Godovalov
---
06. Quito Font Download
QUITO [ˈkito] FREE FONT. FREE FOR PERSONAL AND COMMERCIAL USE.
Designed by : Fabian Korn
---
07. Alcubierre Font Download
Free to use for personal and commercial projects.
Designed by : Matt Ellis
---
08. Charlevoix Font Download
Charlevoix is a beautiful display typeface. It is strong, bold and wavy like the Quebec region's beautiful landscape. Its slightly rounded corners remind us of older prints where letters were never sharp at the edges. It boasts 230 meticulously crafted glyphs.
Designed by : Mathieu Desjardins
---
09. Jaden Typeface Font Download
Jaden is a geometric sans serif typeface.It is made primarily for headlines, posters, photography, print, web, typography, logos, stationary and much more.
Designed by : Aritra Das
---
10. Lumberman Font Download
Free to use for personal and commercial projects.
Designed by : Patrick Evensen
Download Dropbox | Download Uploaded.net
---
11. Debby Font Download
Debby is a hand-drawn brush typeface to make your works looks natural. It designed to feel personal and imperfect; the irregular bouncy characters and the rough shapes speaks by itself. You can use it for anything from wedding invitation, quote poster, logo, greeting cards, etc.
Designed by : Artimasa Studio
---
12. Esphimere Font Download
Esphimere is a futurustic style font and comes with 12 styles (thin, thin italic, extra light,extra lifght italic, light, light italic, regular, italic,semi bold, semi bold italic, bold, bold italic)
Designed by : Rizky Andyno Ramadhan.
---
13. Libertad Font Download
Libertad is a sans-serif typeface that mixes humanist and grotesk models – It's most interesting feature is the combination of balanced regulars with dinamic italics, wich makes it a very versatile font for diferent uses.
Designed by : Fernando Díaz
Download Dropbox | Download Uploaded.net
---
14. Unblessed Script Font Download
TRIAL VERSION.
Designed by : Mikrojihad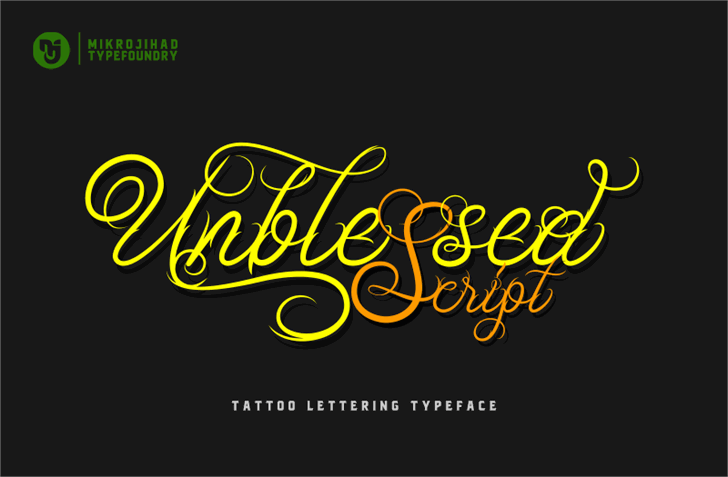 ---
Please Note: All visual content above is copyright to its respectful owner. FontBlog does not claim credit nor responsibility for any images/videos featured on this site.