Yet again We have a unique collection of fonts based on various topographies. They all seem to be elegant and FREE to use. Enjoy downloading.
---
01. Lovelo Inline – Font Download
Lovelo free font is remake of the original Lovelo Inline – designed by Renzler Design, Vienna, Austria.
Designed by : designed by Renzler Design
---
02. Fénix Font Free Download
Fénix is a serif typeface designed for display and long texts, its foundations are based in calligraphy, with strong serifs and rough strokes. Its proportions seek to gain space in height and width. Fénix is elegant at large sizes and legible at the same time, with a lot of rhythm in small sizes.
Designed by : Fernando Díaz
Download Dropbox | Download Uploaded.net
---
03. Unveil—Free Vector Font Download
Made out of Futura and alot of illustration, this font is perfect for a variety of applications. It's for that suprise party / baby shower / block party invitation you're working on. For those magazine spreads that require a special drop cap. For that unique 'Coming Soon' poster. Use it for a logo or a t-shirt design. Use it as you like. This vector font comes in five different styles that allow you to layer them any way you see fit.
Designed by : Tré Seals
---
04. Alt Retro Typeface Font Download
Retro is a five-weight typeface to use in any graphic design application.
Designed by : Andreas Leonidou
Download Dropbox | Download Uploaded.net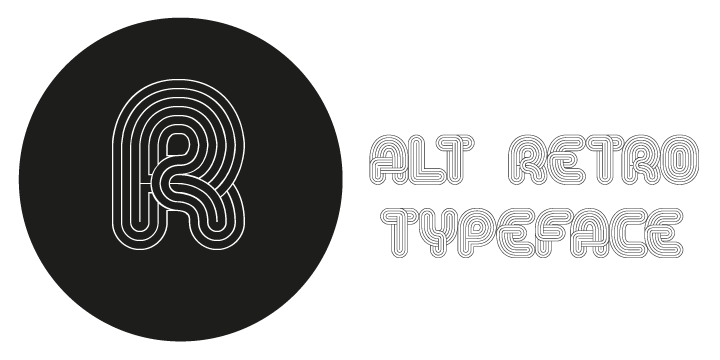 ---
05. Scratch Typeface Font Download
Madrid is the first attempt for a custom typographic logo for a fashion retailer. Though the client and I liked the font, we ended with a thinner option. Nonetheless, I did my usual and finished the design of the full set.
Designed by : Antonio Rodrigues Jr
---
06. Komoda Free Font Download
Komoda is a display, sans serif typeface suitable for headlines, editorial and poster design. This font is free for personal and commercial use.
Designed by : Joanna Angulska
---
07. Hagin Serif Font Download
Hagin is a new serif free font from Fontfabric constructed with strong geometric forms in "old school" style. Applicable for any type of graphic design – web, print, motion graphics etc and perfect for t-shirts and other items like posters, logos. Have fun!.
Designed by : Miroslav Bekyarov for Fontfabric.
---
08. Intro free Font Download
What distinguishes the new Intro free font from FontFabric is the strongly expressed geometric makeup and structure.
The basic letters of the Alphabet like "A", "O" and "H" are built or based on principles of simple geometric forms – triangles, circles and squares.
In contrast to the Futura font which possesses similar styling, the Intro font preserves the characteristic sharpened edges of the "А", "V" and "W" letters even in it's boldened form.
Designed by : Miroslav Bekyarov
---
09. Madras Free Font Download
Madras is a sans-serif type family consisting of 7 weights plus matching italics, designed by Thomas Gillett (Australia).
The design and production spanned over 2 years beginning with Thomas's Andromeda typeface and drawing inspiration from street and roadside signage. The typeface has been designed to be space-efficient, legible and ultimately elegant. Madras features the simplicity of typefaces such as Helvetica and is combined with modern defining features of typefaces such as Interstate to create a hybrid typeface that can be applied to any situation.
Designed by : Thomas Gillett (Australia)
---
10. Zona Pro Font Download
Zona Pro is a versatile geometric sans-serif type family of 8 weights plus matching italics. Zona Pro draws inspiration from 1920s geometric-style typefaces by having clean and highly legible forms constructing the type. The heavier weights feature a slight variance in the stroke widths, resulting in a grotesque-ish and distinctive personality. Zona Pro has be designed to be an elegant, modern and multi-functional typeface that will preform equally as well in editorial settings as it does in display settings.
Designed by : Kostas Bartsokas in 2013/14
---
Please Note: All visual content above is copyright to its respectful owner. FontBlog does not claim credit nor responsibility for any images/videos featured on this site.