We have compile a list of Free Downloadable various type Fonts for personal & commercial use for Web Designers and Logo Artists by which you can save your money as well as time and focus on making great implementation and applications of these typeface designs.
---
01. Phantasm Font Download
A font designed with by Adil Siddiqui
---
02. Marko Horobchyk Font Download
Marko Horobchyk is a brush-inspired typeface for children's literature. As the name suggests (Horobchyk it is 'sparrow' in Ukrainian language), the initial idea was to create a typeface-companion for Marko the sparrow — a cartoon character. Marko Horobchyk is simple and smooth, has special inner tension and eye-catchy detailing. The letterforms are based on calligraphy and sketches — this is what makes Marko Horobchyk lively, enchanting, and amiable. Marko Horobchyk will work best in medium to large sizes and captivating headlines. While it is technically optimised for better performance on screen, carefully
adjusted outlines promise good quality in print too.
Designed by : spizh
---
03. ÆNEA Font Download
ÆNEA – a free title typeface
Designed by : Veronica di Biasio
---
04. Universe font Download
Designed by : vincentlab
---
05. RipeType Font Download
A Geometric Postmodern slab seriffed face. The serifs feature simplistic rounded terminals and its stroke is uniform.
Ripe was designed to be a practical typeface. Each character is distinct, yet consistent. Its subtle differences are clear enough to be easily read at both high and low resolutions, perfect for print, web and screen media.
Designed by : www.jensonmedia.com.au
---
06. Oblik Serif Font Download
Oblik Serif is a 3 font, slab serif Family by Tour de Force Font Foundry.
Download Font (Oblik Serif Bold)
---
07. Carosello Font Download
Carosello, a beautiful font inspired by vintage ads, and created to give a genuine hand-written impression to your work. It will be a huge helper to anyone who's into vintage style.
Designed by : Unio | Creative Solutions
---
08. Devious Typeface Font Download
Devious Typeface, a new font with simple, minimalistic, retro and vintage feel. It's full of alternative characters available via OpenType features. Use this font for greeting cards, posters, labels, t-shirt design, etc.
Designed by : Graptail
---
09. Slash Font Download
Meet Slash! Display font designed to be unique and stand out of the crowd. It is designed for type lovers, rockstar designers who look at every detail and want to create something special. And it's only available in badass black.
Designed by : Ronald Vermeijs
---
10. Elrotex Brush Font Download
Catch this cool brush typeface of two fonts that will help you to bring a beautiful handcrafted look in your design. Elrotex Brush is incredibly good fit for any creative project.
Designed by : Maulana Creative
---
11. Aidan Font Download
Aidan is a modern copperplate calligraphy with a romantic and dramatic movement. It suitable for wedding invitation, greeting cards, watercolor based design, or anything that need natural feeling to put on to.
Designed by : JROH Creative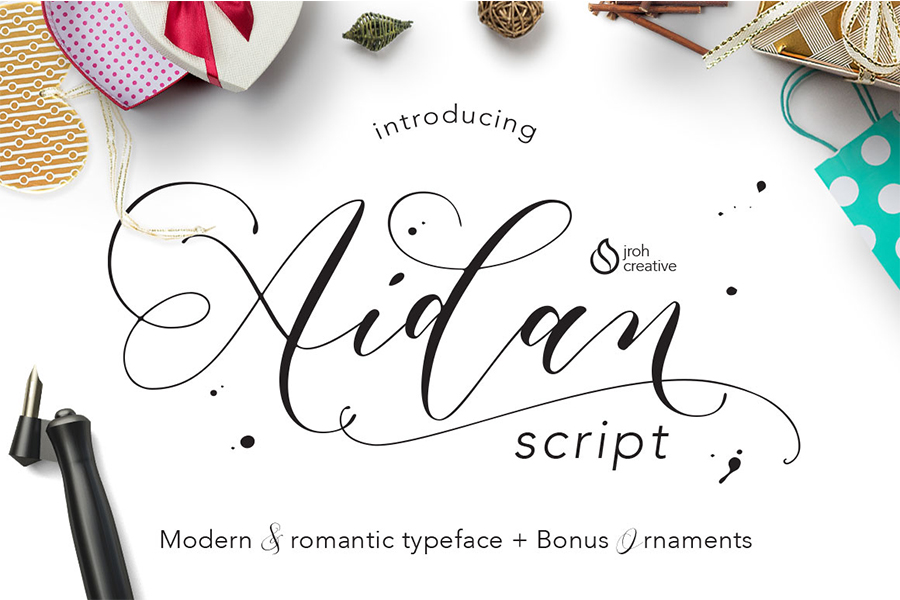 ---
12. Tavolga Font Download
Tavolga have the mood of brushed feeling and come across as friendly and gentle. The harmony of organic and smooth shapes makes Tavolga uniquely appealing for display and titling where special expression is required.
Designed by : Ivan Petrov
---
13. Oliver Font Download
Oliver is multi-purpose and ready to make a statement by adding an elegant and unique talent for the next design project. Oliver can be used for various purposes such as posters, logos, t-shirts, signage, business card, magazines, book covers, wedding invitations, greeting cards etc.
Designed by: ShowUp! Typefoundry
---
Please Note: All visual content above is copyright to its respectful owner. FontBlog does not claim credit nor responsibility for any images/videos featured on this site.